There are now 4.5 million Venezuelans abroad in their attempts to flee the Maduro presidency. However, the numbers are expected to exceed 5 million and has now drawn the attention of the United Nations. In Latin America, there are currently 3.7 million Venezuelan refugees with the majority of the Venezuelans fleeing to Peru, Colombia, and Chile. Three international entities, the EU, UNHCR, and the IOM, have all called for the acceptance of the Venezuelan refugees.
Since 2014, there has been a shocking 8000 percent increase in the amount of Venezuelans abroad and this has been quite worrisome. The main reasons for the cause in the increase of Venezuelan migrants has been because of severe inflation and internal conflicts between president and opposition as Venezuelan President Maduro desperately holds onto power. Ever since taking power, President Maduro has been plagued by this crisis along with severe inflation.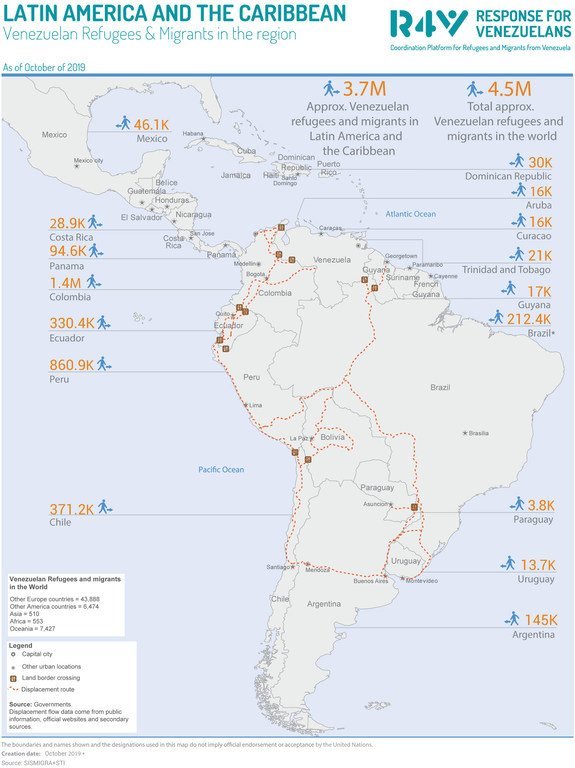 With such a severe refugee crisis breaking out in Venezuela, news sources are determined to bring this information to the world as it enters the international spotlight. Drawing attention from multiple UN committees and the EU, this crisis is requiring all nations of Latin America to rally and support the Venezuelan people. It is important to mention that all of the articles really focus on the humanitarian side of the issue. The articles are a way of building empathy from the readers in their understanding of the struggles of the Venezuelan people. Building empathy is effective as it draws attention to issues around the world where aid is needed most.
Yes, this these articles relate directly to what we have been discussing in class as Venezuela struggles towards its road to socialism. With the passing of socialist Hugo Chavez, the previous Venezuelan president, Maduro has led the nation into a steep decline. Maduro currently has the support of the military in Venezuela and does not seem to be losing power anytime soon as the opposition in Venezuela seems to be unable to make progress against Maduro.
Works Cited
"UN and Partners Call for Solidarity, as Venezuelans on the Move Reach 4.5 Million | UN News." United Nations, United Nations, Oct. 2019, news.un.org/en/story/2019/10/1049871.
Latin America Advisor. "Maduro Clings To Power As Venezuela's Refugee Count Hits 5 Million." OilPrice.com, 24 Oct. 2019, oilprice.com/Latest-Energy-News/World-News/Maduro-Clings-To-Power-As-Venezuelas-Refugee-Count-Hits-5-Million.html%C2%A0.
Nebehay, Stephanie. "Venezuela Exodus Set to Top 5 Million as Long-Term Needs Grow, Officials Say." Reuters, Thomson Reuters, 23 Oct. 2019, www.reuters.com/article/us-venezuela-security-un/venezuela-exodus-set-to-top-5-million-as-long-term-needs-grow-officials-say-idUSKBN1X21MM.